Albert Ariel Bedwin 'Jack' Johnson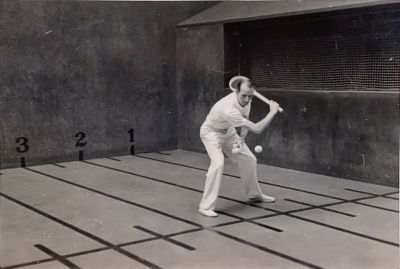 Known as Jack to the tennis world and Mate to the family Albert Ariel Bedwin Johnson was born on 5th December 1914 at the Tennis Court Moreton Morrell. Son of professional Ted Johnson Jack his four brothers and one sister were raised in the two bedroom professional's flat at the court.
As with the other Johnson children Jack was educated in real tennis by their father at Moreton Morrell. Three of the boys, Edward, Neville and Jack followed their father and grandfather into jobs as tennis professionals. Jack took jobs in New York and later Chicago.
In 1957 he achieved a feat that had eluded his father and won the world title beating Jim Dear 7-3 at The Queen's Club in London.
Jack had lost to Jim Dear two years earlier in a close match 11-10 (sets) played at New York and Queen's in a championship that was the first since 1923 not to feature the legendary French player Pierre Etchebaster.
Jack held his title for two years before losing to American Northrup R Knox 7-2 (sets) in the 1959 final in New York.
Jack died in Indiana in 1996