1905
Tennis court built by master tennis court builder Joseph Bickley for wealthy American Charles Tuller Garland as part of Moreton Hall (now part of Mid-Warwickshire College), whose entrance gates face those of the Court.
Garland employs Ted Johnson as court professional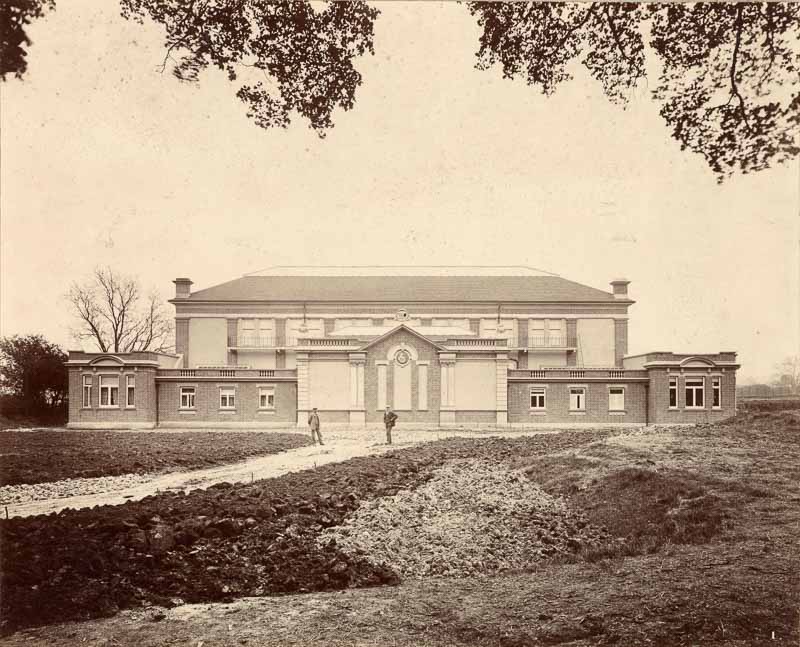 1906
The court is inaugurated with a match between the court's professional Ted Johnson and then three times World Champion Peter Latham.
1909
Ted Johnson loses world title match 7-2 Sets to Cecil 'Punch" Fairs at the Prince's Club in Brighton.
Ted was given the opportunity to claim the world title four years later when reigning champion Fred Covey refused to accept Ted's challenge, but, not having played for the title Ted declined to claim the title.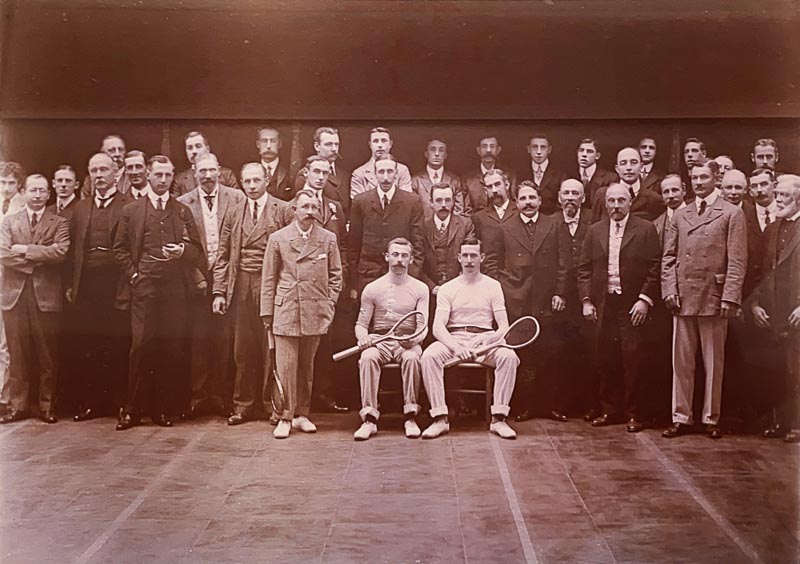 1921
Death of Charles Garland & sale of Moreton Hall estate to Colonel R.J.L.Ogilby, DSO
1930s
During the 1930's, the Court was kept going by a small group of enthusiasts including Col.EJ.L.Speed, MC. who leased it from Colonel Ogilby and saved it from being requisitioned during the 2nd World War.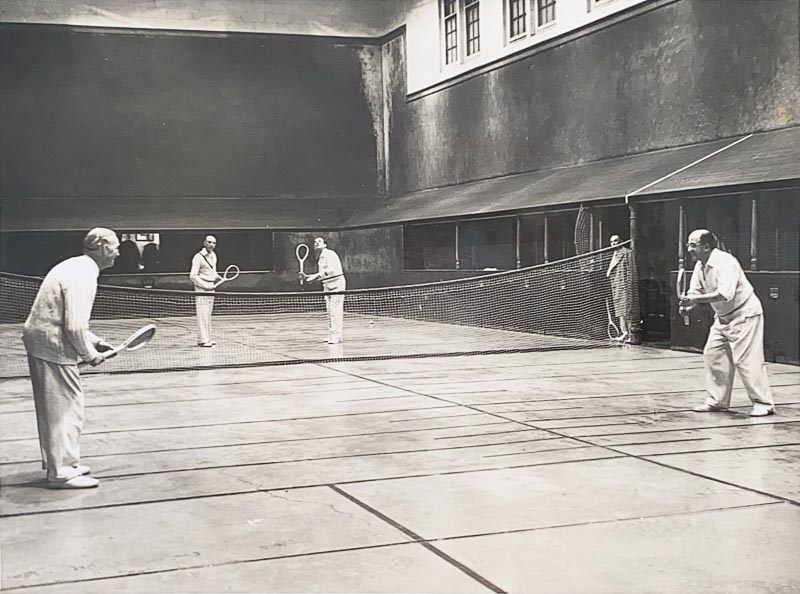 1949
Major James Dance MP for Bromsgrove acquires the court and introduces a programme of matches with other clubs.
1957
Albert "Jack' Johnson wins world title beating Jim Dear 7-3 sets at The Queen's Club in London. Jack was the son of Ted Johnson and born and educated in tennis at Moreton Morrell.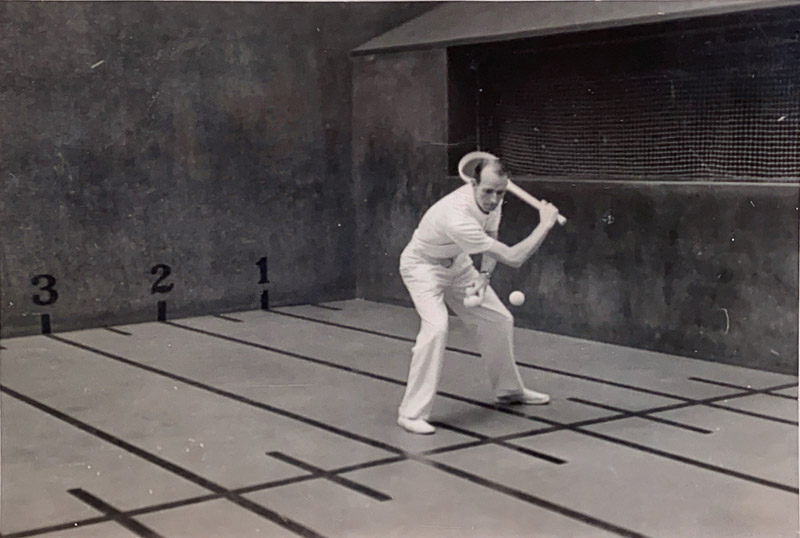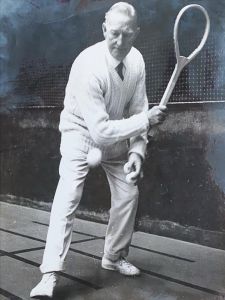 1959
Ted Johnson celebrates his 80th birthday at the club with a dinner in his honour and a game of tennis. Ted continued working at the club for a further 10 years until his death in 1970
1963
Moreton Morrell Tennis Court Company is formed, with the generous help of many supporters of tennis, including Mr. Garland's three daughters, to acquire the building and grounds.
1970s
Following the death of Ted Johnson in 1970 the club like many others struggled to keep afloat and a limited membership meant that it was not feasible to employ a full time professional until 1978. Over this period the club was stewarded by Alf May and his son Nigel.
1978
Jonathan Howell is appointed as the club's second full time professional. Despite his young age he is credited with rejuvenating the club, encouraging new members and improving playing standards. The club's ladies section also blossomed at this time.
Jonathan (left) is pictured here with Leamington's Kevin Sheldon, World Champion Howard Angus and The Hon. David Verney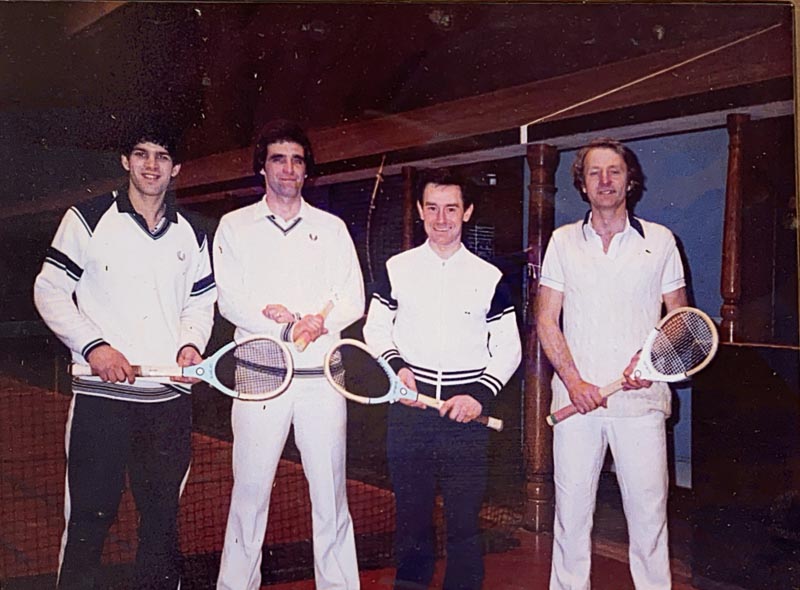 1980
With a professional once again at the helm Moreton was in a position to host a series of major events featuring the world's best players throughout the 1980s. This started with the British Professional Singles and Doubles Championships Sponsored by Unigate. A feast of magnificent tennis was provided by, among others, Graham Hyland, Barry Toates, Chris Ronaldson, Frank Willis, Lachie Deuchar and Leamington's Kevin Sheldon. The Singles Final between Chris Ronaldson and Frank Willis is still remembered by those privileged enough to witness it.
At two sets all and five-all, Chris Ronaldson saved a match point by hurling himself on the floor to scoop a ball from the tambour and the match finished when Ronaldson beat a worse than a yard chase laid by Frank Willis. Roy McKelvie in his match report for the Times noted that "Willis was quick to congratulate him when he beat it- a nice gesture from a man who has held the title for a dozen years"
1981
The Unigate World Invitation Tournament was held at Moreton Morrell in May of 1981. The Singles was won by Chris Ronaldson who defeated Wayne Davies of Hobart quite comfortably 6-3, 6-2, 6-4. In the doubles final, the experienced pairing of amateur Alan Lovell and Norwood Cripps, played the Australians Wayne Davies and Lachlan Deuchar in front of a packed dedans.
The match went to 5-all in the fifth set and at 40-15, Lovell and Cripps successfully defended their short chase to take the title.
1985
Andrew Davis takes over as club professional replacing Jonathan Howell who had left for Bordeaux in 1982. Andrew continued to build on the foundations laid by Howell.
1986
In 1986, the World Tournament was sponsored by George Wimpey and co-hosted by Leamington and Moreton Morrell, where the finals were held. The singles final was a fine contest in which Chris Ronaldson overcame Lachlan Deuchar 6-5, 6-4, 6-3. The doubles final again featured Alan Lovell, who, with a new partner, Graham Hyland, defeated Ronaldson and Deuchar 6-3, 1-6, 1-6, 6-3, 6-3
1990
The tournaments again returned to Moreton Morrell and Leamington in 1990 sponsored by Leamington member John Grant's Conrad Construction. Lachlan Deuchar defeated Wayne Davies 6-4,6-3, 6-2 in the singles final.
Andrew Davis left the club to follow a course in further education before returning to tennis as professional at Oxford. Steve Brockenshaw who had been assistant pro at Manchester took over the reins at Moreton bringing with him his enthusiasm, coaching skills and general bonhomie that helped to generate a special atmosphere at the club frequently commented on by visiting players.
At this time the club was able to employ an assistant pro with Mark Morris and then Andrew Knibbs both serving under Steve before Tom Granville made the switch from club member to Assistant Professional.
1993
Club member Sally Jones wins Ladies world Championship beating Charlotte Cornwallis 2-1 in Bordeaux.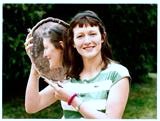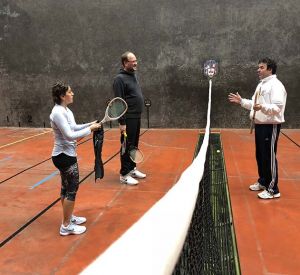 1997
Steve Brockenshaw returns to Manchester to take over from Frank Willis and is replaced at Moreton by former club amateur Tom Granville. Tom has maintained the standards set by Steve and keeps a warm welcome at the club for members and visitors alike.
Tom has been supported by Nick Jury and since 2019 Lloyd Pettiford as Assistant professional.
1998
Restoration work is completed on the decorative concrete that surrounds the building. The effort had cost the club £100,000 and was made possible by the generous donations of members, friends of the court and a large number of visiting players who regard the court as one of the best playing surfaces in the world. The building works were overseen by club member Frank Haywood and committee members Julian Rawstorne and David Sutton. The fundraising was overseen by Richard Greaves.
2005
Top class tennis returned to Moreton Morrell as the club celebrated the court's centenary with a doubles and singles tournament.
The celebrations were capped off with a formal dinner held at Moreton Hall which was attended by HRH Prince Edward the Earl of Wessex as patron of the Tennis and Rackets Association, former world champions and four hundred guests.
2012
The American Squash Court is renovated and brought back into playable condition. We believe making it the only purpose-built squash tennis court in everyday use in the world.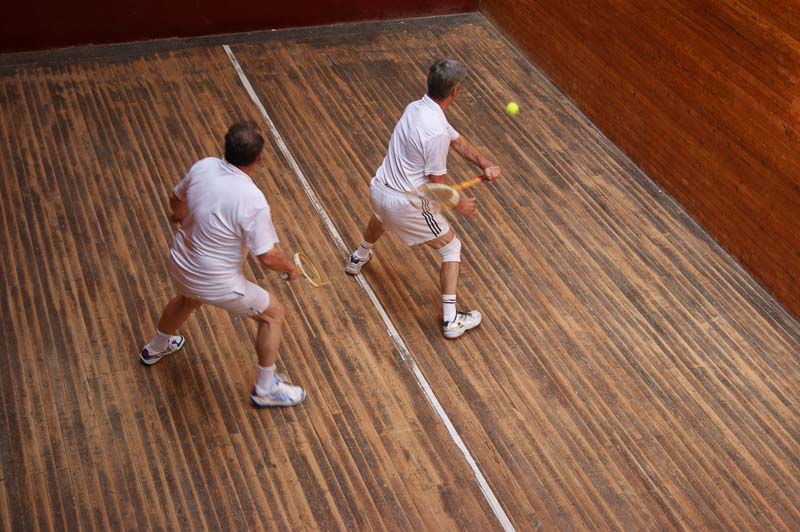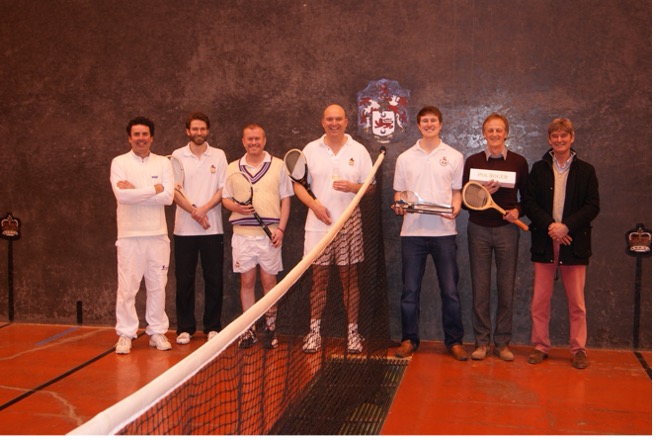 2015
Moreton wins the Field Trophy for the first time beating oxford 4-1 at home in the final. Since 2012 the Field trophy has been awarded to the winner of the second division in the inter-club knockout competition and brings with it promotion to the Pol Roger division. Moreton's time in the top division was short lived but as finalists in 2018, this time losing to Oxford at Hampton Court Moreton was once again promoted to the Pol Roger.
2018
The court receives a second royal visit from HRH Prince Edward the Earl of Wessex as part of his tour of the world's 50 tennis courts in aid of the Duke of Edinburgh Award scheme. The court hosted pupils from a number of local schools introducing them to the game before the Earl played 3 sets of doubles with club members. One set was marked by a member's daughter who had learned real tennis marking as a skill for her bronze award.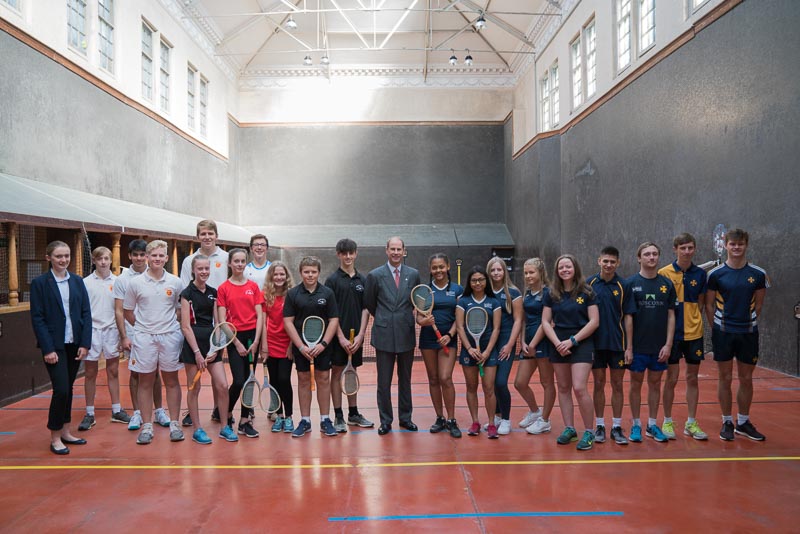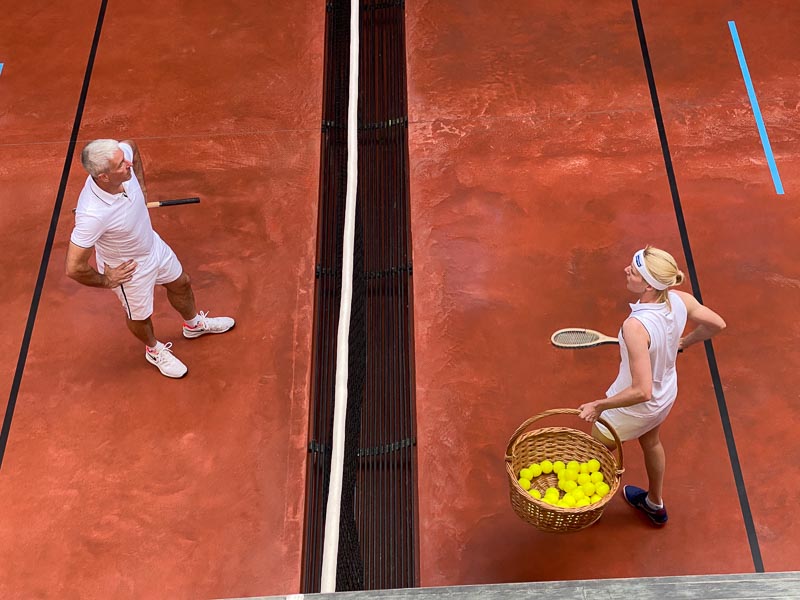 2020
2020 was a year of structural changes. The club became a Ltd Company and registered as a charity. The board also decided to take advantage of the Covid enforced court closure to replace the deteriorating court floor.
The new floor was tested by reigning men's and women's world champions Rob and Claire Fahey.
As well as the floor more restoration work was carried out on the decorative concrete, the windows in the court lantern were replaced and the court crowns and crests were all repainted.